Microsoft has a great deal for small business with a free version of Accounting Express 2009. It can create estimates, invoices, track customer payments, set product and service pricing and can export and import data using Microsoft Excel formats, and can export to e-mails, Microsoft Word documents, or PDF files, and even sell items on eBay.
You can compare Microsoft Accounting 2009 versions to see if you would like the professional version which includes additional report, multi-user access, and the ability to track and bill for employee time. I've found the free Accounting Express 2009 version combined with the PayPal Outlook add-in provides everything I need. It does require Microsoft office.
I looked at Fresh Books and Blinksale, but Accounting Express 2009 provides the greatest functionality for the free cost.
Download Office Accounting Express 2009.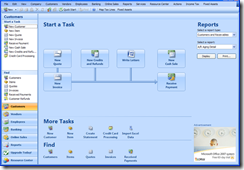 References