I've had problems from day one with VPN Connections on Vista Ultimate Service Pack 1 returning a default gateway 0.0.0.0 and it couldn't resolve any DNS lookups.
I purchased a new Dell XPS M1530 in December of 2008. It seems like a fine machine, but the Vista networking issues have troubled me like a cancer. It's been one of those nagging problems that I never had enough time to fully investigate and resolve. I finally found the annoying issue was with Check Point Secure Client / Secure Remote software.
For the security work I'm doing for a big name Fortune 100 company, I had to install Check Point Secure Client software. It seems Secure Client wants to block finding DNS servers. I had issues at home, Issues at the office, Issues with VPN connections. I had no end to issues finding systems on any network.
Do Not Check Check Point Secure Remote
It turns out one of the main issues was resolved by disabling Check Point Secure Remote on the LAN, Wireless, and VPN connections. I had the same problem on an XP system on Friday and someone found the answer was to turn off the wireless. For that system, we had no issues in the office, but countless when trying to connect looking up DNS names at home.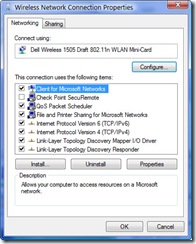 That still didn't fix the BSOD issues on Vista though. Maybe Microsoft can fix some of the remaining networking issues on Windows 7.