Did you ever want a reason to upgrade? Before you start a new project on a mature stable Microsoft technology, you might want to check to see if it is still supported. Microsoft typically provides support five years after the product general availability.
For example, did you know that Microsoft .Net 1.1 mainstream support ends in October 2008?
For more information on currently supported products, refer to the Microsoft Support Lifecycle Index.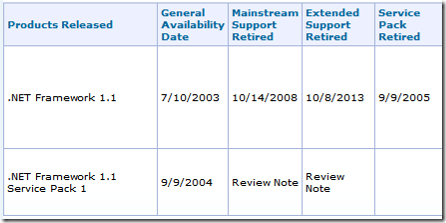 And it's sad to say those products I worked on back in the 1980's are now obsolete. MS-DOS went obsolete in 2001, and QuickBasic in 1999. Who knew? Back in the 80's I used to port the MS-DOS and QuickBasic drivers (okay it was actually GW-Basic) for Data General.
Here is a list of more obsolete Microsoft products.